Last minute. Cheap. Easy. Eco-Friendly. Dang funny.
Read on…
Speed Bump, and Magnet . Amy has metal objects stuck all over her and Jesse is covered with tire treads.
Mustard, Ketchup and a couple of dogs.
Can't see this one too clearly because mom is holding her baby peacock. But she's wearing a tub–with the bottom cut out and helium balloons attached. She is, of course, a Hot Air Balloon.
How about hot gluing candy wrappers, popcorn bags and trash on black clothes to be a Theater Floor.  Don't miss the footprints on his face!
Amy has socks and underwear and fabric softener sheets stuck all over her as Static Cling.
Striped shirt, sunglasses and a walking stick and you have a Blind Ref. Ha!
Do meet "Tornado Tracy" with shredded clothes and little cars and tiny animals and debris stuck all over her.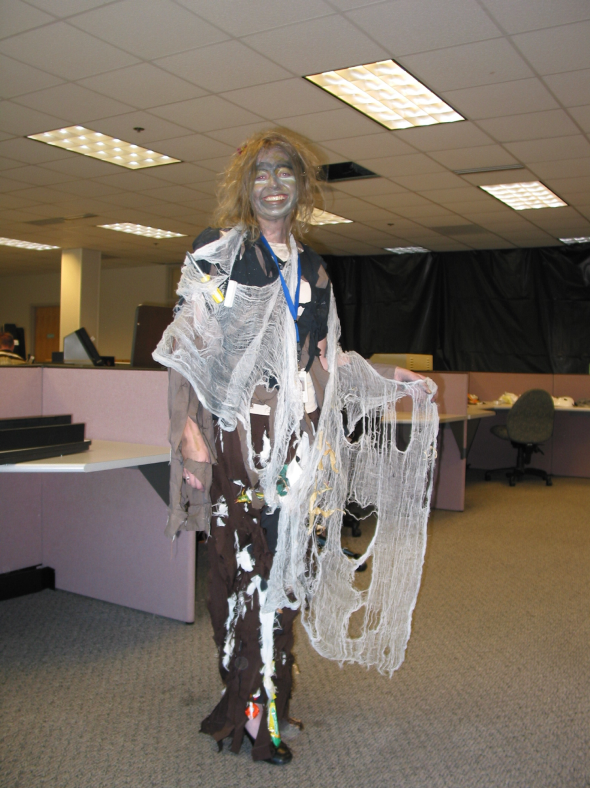 And her cousin "Jillian Cyclone" with nasty hair and wispy gauze draped around for that wind-blown effect.
Regularly dressed fellow. Sign reads: Nudist on Strike! Pregnant mom is an 8 ball.
Plastic knives and duct tape between the fingers, black Under Armor and a clever hair do and you're Wolverine.
Worlds Greatest Dad T-shirt and a clock and you're Father Time. Lyndi is Professor Trelawny from Harry Potter.
Where does one sock of every pair end up?  The "Sock-muda Triangle" of course!
The mummy–thermals and gauze…that's it.
Powerless Spider Man. Sew spiders all over clothes and wear a mustache…unless you're a man already.
The Dead Sea
I Love Lucy–Lucy and Ricky Ricardo
Once in a Blue Moon
Cat Up a Tree–Have some small tree branches and a stuffed cat? Hot glue the branches on a green or brown shirt and attach the cat to the shoulder.
Crumble green paper and hot glue it around your middle. You are now Green Waste.
Fried Egg- Cut a whole in a white sheet and wear it over your head and color your face yellow.
Freudian Slip- a full slip over regular clothes with a sign that reads, "Sigmund." A big cigar is a nice touch too.
Happy Halloween!