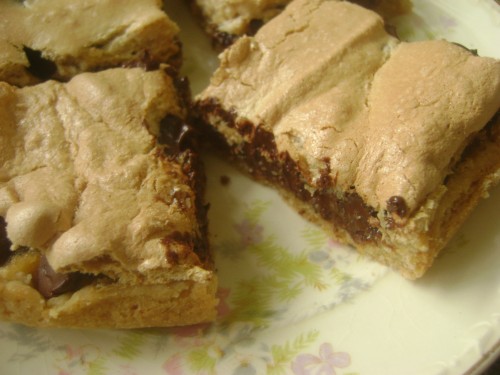 Author: Launi
2 c. flour
1 tsp salt
¼ tsp baking soda
1 tsp baking powder
½ c butter
½ cup sugar
1½ cup brown sugar
2 eggs, separated
1 tablespoon water
1 tsp vanilla
12 oz. semi-sweet chocolate chips
Preheat the oven to 350°. Line a 9×13 baking pan with two pieces of foil–one piece lengthwise and the other piece crosswise with the ends hanging over the sides.
Stir together the flour, salt, baking soda, and baking powder in a small bowl and set aside.
Using a mixer, cream together the butter, the granulated sugar and just ½ cup of the brown sugar together until it's smooth.
Separate the eggs, and set the whites aside.
Beat the yolks into the butter mixture one at a time until well blended.
Add water and vanilla–mix well.
With the mixer on low speed, add the flour slowly and beat until dough looks crumbly.
Press the cookie dough gently into the pan evenly.
Sprinkle the chocolate chips on top of the cookie dough and press them in just enough that they stay put a bit.
Using a mixer and whisk attachment, being beating the egg whites on medium. Gradually increase the speed to medium-high.
When the egg whites turn white, start adding the remaining cup of brown sugar a spoonful at a time.
Continue increasing your speed to the highest setting.
When all the sugar has been added, continue whipping the meringue until it holds a soft, sticky peak.
Scoop the meringue down the middle of the pan with a spatula and gently spread it to the edges.
Cover the pan loosely with foil–shiny side up and bake for 20 minutes, then remove the foil.
Continue baking for an additional 5-10 minutes, until the top looks toasted and pulls slightly away from the sides.
Allow to cool for about 20 minutes and then cut into squares.