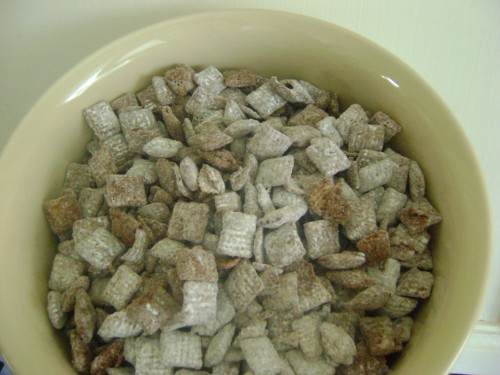 Author: Launi
9    cups Corn Chex, Rice Chex, Wheat Chex
1    cup semisweet chocolate chips
½    cup peanut butter
¼    cup butter or margarine
1    teaspoon vanilla
1-1/2    cups powdered sugar
Into large bowl, measure cereal; set aside.
In 1-quart pan, slowly melt chocolate chips, peanut butter and butter on low heat. stir until melted and mixed thoroughly and smooth. Stir in vanilla. Pour mixture over cereal, stirring until evenly coated. Pour into 2-gallon resealable food-storage plastic bag.
Add powdered sugar. Seal bag; shake the wits out of it until well coated. Spread on waxed paper to cool.