Honey Whole Wheat Bread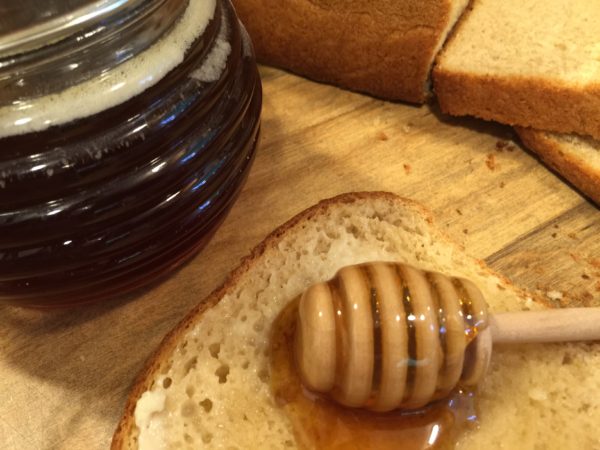 2 Tbsp active dry yeast
½ c warm water
⅓ c honey
1 Tbsp salt
¼ c shortenting
1-3/4 c warm water
3 c whole wheat flour
3-4 c unbleached flour
Dissolve yeast in ½ cup warm water in large mixing bowl.
Stir in honey, salt, shortening, and 1-3/4 c water, and whole wheat flour.
Mix till smooth.
Stir in enough unbleached flour to make dough easy to handle.
Turn dough onto lightly floured surface and knead until smooth and elastic--about 10 minutes.
Place in greased bowl; turn dough greased side up.
Cove with warm damp towel.
Let rise in a warm place until double, about 1 hour.
Punch down dough and divide in half.
Flatten each half with hands into a rectangle.
Place loaves in 2 greased loaf pans.
Brush lightly with butter
Let rise until double, about 1 hour.
Heat oven to 375.
Place loaves on low rack so the tops of the pans are in the center of oven.
Bake until loaves are golden brown and sound hollow when tapped--40-45 minutes.
Remove from pans and let cool on wire rack.