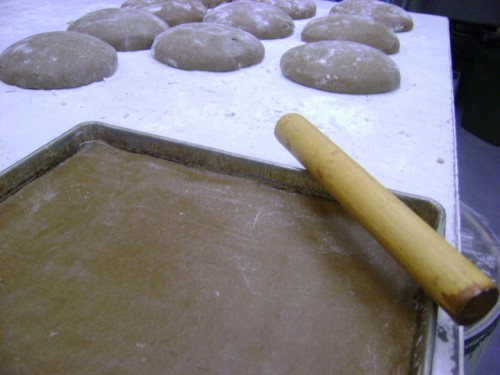 3 cups sifted flour
1 tsp ground cinnamon
½ tsp baking soda
½ tsp ground allspice
½ tsp ground cloves
½ tsp ground nutmeg
1 cup corn syrup
⅓ cup sugar
1 egg
2 tablespoons lemon juice
2 tsp grated lemon rind (optional)
½ cup confectioners' sugar
1 tablespoon water
Stir together first 6 ingredients.
In 1-quart saucepan, bring corn syrup and sugar to a boil. Cool.
In a large bowl stir together corn syrup mixture, egg, and lemon juice.
Gradually stir in flour mixture until well blended.
Cover; chill 1 hour or until easy to handle.
Roll out dough ¼ at a time to ¼" thickness onto a well greased cookie sheet.
Bake in 400°F oven 6-10 minutes or until lightly browned.
Remove from cookie sheet immediately and place on rack.
Cut into cookies or house pieces while it's still warm.
If cutting into cookies, mix confectioners' sugar and water.
While still warm, brush with glaze. Cool.
May be stored in tightly covered container for a dang long time.