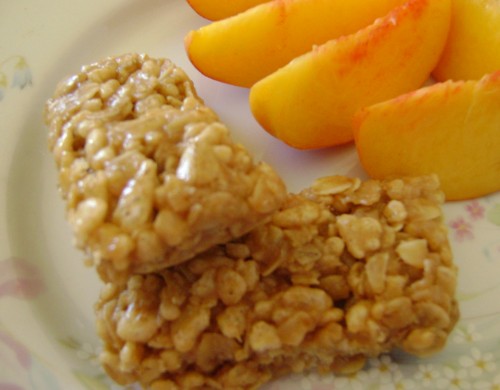 Chewy Energy Bars
Ingredients:
2-1/2 cups crisp rice cereal
2 cups old-fashioned oats
¼ cup toasted wheat germ
1 cup corn syrup
1 cup peanut butter
½ cup packed brown sugar
1 teaspoon vanilla extract
In a large bowl, combine the cereal, oats and wheat germ. In a small saucepan, combine the corn syrup, peanut butter and brown sugar.
Cook over medium heat until peanut butter is melted, stirring occasionally.
Remove from the heat. Stir in vanilla. Pour over cereal mixture; mix well.
Transfer to a greased 9-in. square pan.
Gently press cereal mixture evenly into pan.
Cool completely.
Cut into bars.